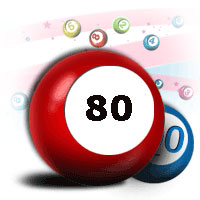 Whilst the game of 80 ball bingo has been played in land based venues for decades now, it has only recently become one of the more readily available online bingo games.
The game itself is a fast paced one, and this is due quite simply to the bingo cards having over 16 numbers upon each one. This is of course one more than the 90 ball bingo variant, however the playing structure of 80 ball bingo is different than the latter named one!
The 16 numbers on each and every 80 ball bingo card are printed in a grid, with four sets of four numbers structured on this grid via a 4 line 4 row type of layout. Usually each column contains a set of different colour numbers.
Column one of often contains only Red number, the second column contains Yellow numbers, the third column contains Blue numbers and the final column contains White numbers.
The Red numbers are those from 1 to 20, the Yellow numbers are those from 21 to 40, the Blue numbers are those from 41 to 60 and the White numbers are those from 61 to 80.
Obviously there are only 80 numbers in play on this variant of bingo and as such you will not find any numbers above number 80 in play on the bingo cards or in the bingo ball machine!
How To Play 80 Ball Bingo
To play 80 ball bingo online you will first need to find an online bingo site which offers the game, the majority of our featured online bingo sites have this game available so by selecting one of them you should be able to play this game once you have opened up an account and logged in!
You will then need to select one of the many different bingo rooms with in the bingo site which utilize the 80 ball bingo game, then once you have entered that bingo room simply purchase the required number of tickets you wish to play for the next game.
There are many different patterns in play on 80 ball bingo, however the most common ones played are for a line in any direction on the bingo card, the four numbers and the full house.
The bingo software is going to automatically check all of your tickets and mark off each number for you are they are called out of the bingo machine, and should you complete the required winning pattern on any bingo card you have purchased the bingo software will also called bingo for you!
As mentioned above, this is a very fast paced bingo game more so when you are playing the single line pattern games, and as such it is a great game to consider playing if you only have a limited amount of time to play bingo with!
The cost of an 80 ball bingo card will vary greatly depending on which bingo site you have chosen to play and in which bingo room you are playing, however, it is worth pointing out that some of our top rated online bingo sites will allow you to play this bingo variant via their free play bingo games!