Win a Fiat 500 at JackpotJoy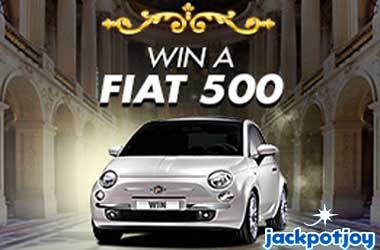 The JackpotJoy site which is one of the most played at online Bingo sites have currently got up and running a very exciting player promotion, and you could win yourself one of eight Fiat 500 cars simply by logging on and playing your favourite Bingo games, they are giving away these cars up until the 3rd of March 2014, so you have plenty of time to plan your next Bingo playing session and have the chance of winning one of these cars!
This has to be one of the easiest Bingo promotions to take part in, for all you have to do is to log into the Jackpot Joy site, and then deposit and play either 10.00 on any of their real money Bingo games, or if you prefer playing slots simply play 30.00 worth of slot games, or even play 100.00 worth of casino games, and by doing so you will be entered into their draw.
The draws to win one of these eight Fiat 500 cars have already started as this promotion went live during January, however there are still several cars to be won and the remaining draws are being held on the following days: 6th February, 13th February 2014 and finally on 3rd March 2014, so make sure you log in one day soon and get playing, for someone has to win those cars and that lucky player may just be you!
If you have not already signed up and become a player at the JackpotJoy Bingo site then there is an added incentive up for grabs for you to sign up right now, and when you do sign up and make a 10.00 deposit they will give it a 250% boost in value and as such you will be credited with an additional 25.00 in credits into your Bingo account.
Get on over to the Jackpot Joy bingo site now for all of the terms and conditions of both their Fiat 500 Giveaway Promotions well as the terms and conditions of that very generous sign up bonus can be found on their website, and the sooner you sign up, deposit and play the sooner you will be able to enter that fantastic draw!
You will find a full range of different Bingo games, Bingo Slots and Casino games readily on offer at the Jackpot Joy Bingo site and with some huge jackpots on offer you never know, you could have a very lucky day today if you give them a try!
Categories:
Bingo News
Posted on: 31st January 2014 by: Lynda Robshaw