Ant and Dec at Gala Bingo!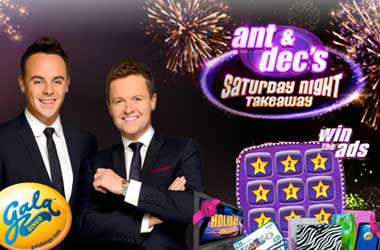 The lovable comic duo Ant and Dec will be making a very welcome return to our television screens this coming Saturday thanks to the return of their very own Saturday Night Takeaway game show, and to mark the event Gala Bingo have one of the most generous promotions we have seen, and this is your chance to win a huge range of prizes!
Every Saturday night after the show has finished on ITV then get yourself over to the Gala Bingo site where you will be able to take part and play in the Win the Ads Bingo game, and much like the television game show hosted by Ant and Dec you will be able to win a wide range of prizes if you are the winner of one of these special Bingo games!
If you head on over to the Gala Bingo site right now you will find a complete listing of just what prizes are on offer this coming Saturday night via these special Bingo games, and you will also be able to watch a high definition video presentation by Ant and Dec who will explain how these Bingo games wok and what you have to do to win them!
If you have never played at the Gala Bingo site before then you really have been missing out on a lot of fun and games, and as all new players are able to boost their bingo playing budget thanks to a very generous sing up promotion then you will find your very first Bingo playing session is going to be not only fun filled but much longer than you could have imagined!
The full details of the sign up bonus offer that all new players of the Gala Bingo site are able to claim can of course be found on the Gala Bingo site, whilst you are on their website do have a good look around for their is much more to their site than just online Bingo games!
You will find all manner of additional games including a massive suite of very high paying Bingo slot games and a sprinkling of casino orientated games, so if you do fancy trying you luck on some games other than standard Bingo games then you are always going to be able to do just that at the Gala Bingo site, good look if you do decide to play the Win the Ads games!
Categories:
Bingo News
Posted on: 20th February 2014 by: Lynda Robshaw