BetFred Bingo Launches Escalator Jackpot Games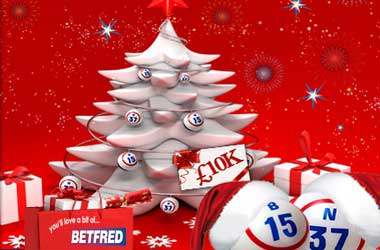 How do you fancy winning your share of what has to be one of the biggest prize pools ever attached to a series of online bingo games, there is a mind blowing £250,000 up for grabs if you decide to take part in the brand new online bingo jackpot games which one of our top rated Bingo sites have put together from now until Christmas Eve!
The BetFred Bingo site really have pushed to boat out and got into the Festive Spirit this year and as such every day between now and December 24th 2013 they are giving away £10k on their newly launched and must play Escalator Jackpot Bingo game, which are worthy of every online Bingo players attention!
This is a Bingo game on which you simply need to call house in a set number of ball drawn or any number below the jackpot ball number, however to ensure that the jackpots are won and do not go to waste the ball count is going to be increased as the hours tick by!
The Ball Count will start at its usual amount however when the hour of 3pm ticks by if there has not been a winner then the Ball Count is going to increase by two. The Ball Count will continue to increase by two on the hour every hour in the hope that someone will win it.
However should there be no winner during the day then the BetFred Bingo team are going to give away that jackpot on the final game of the day that being at 11.54pm and that means that someone is going to win that massive jackpot each and every day!
To give someone an even bigger jackpot on Christmas Eve they will double the daily jackpot from £10,000 to £20,000 and that guarantees that someone is going to win the jackpot in play and that will mean that one lucky player will be guaranteed of a huge jackpot in the minutes before Christmas Day and that present will be worth a whopping £20,000!
Categories:
Bingo News
Posted on: 11th December 2013 by: Lynda Robshaw