Coral Bingo Christmas Promotion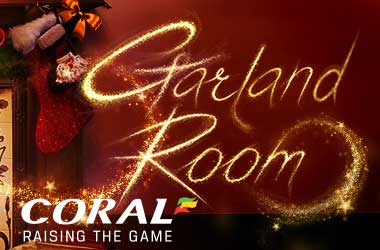 Today is the day when you should be heading on over to the Coral Bingo site if you fancy playing some free bingo games, for Coral Bingo have set aside a Special Bingo Room that is only going to open three times during the month of December and one of those days has already passed by!
This brand new festive themed Bingo Room at Coral Bingo is the Garland Room and today the 12th of December and again on the 19th of December they will be swinging open the cyber doors of this unique and very exclusive Bingo room and have put together a very special set of Bingo games.
To be able to gain access to this brand new Garland bingo room at the Coral Bingo site you will have to deposit and play just 15.00 worth of credits on any of their Bingo Tickets available in any of their Bingo rooms today, and then you will be able to amass up to 240 free Bingo tickets which are for the special games being played in this Garland Bingo room!
The doors of the Garland bingo room set aside for these free Bingo games at Coral Bingo will swing wide open at 8pm in the evening and that is where your free tickets you have accumulated during the day can then all be played out.
There are plenty of prizes and cash to be won on the free Coral Bingo games as they are using the 90 Ball Bingo game as the base game that therefore means that there are three prizes are offered on each game you will be playing. Today the 12th of December will see players playing for cash prizes and the following additional prizes.
You can win a House of Fraser Personal Shopping Experience or one of the very latest Sony Vaio Laptops, you may win for yourself an exciting driving experience in a Ferrari 430 Driving or you may bag an English Vineyard Tour, Wine Tasting and free Lunch, plus another prize worth winning today is a Six Bottle Case of Hardy's Bin 53 Wine!
So if you are in a Bingo playing mood today then get yourself over to the Coral Bingo site, make a deposit and start playing Bingo online to amass those additional free Bingo tickets which will then give you exclusive access to that very special Garland Bingo Room where those prizes are all on offer, Good Luck!
Categories:
Bingo News
Posted on: 12th December 2013 by: Lynda Robshaw