Paddy Power Panto Bingo Promotion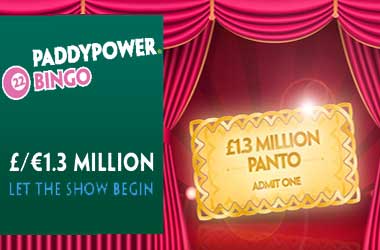 The team over at the Paddy Power Bingo site have certainly got into the festive spirit and have put together some of the most potentially rewarding bingo Promotions and bingo games from now until the New Year to play on your mobile or computer, and if you do find yourself wanting to escape the madness that surrounds Christmas then the Paddy Power Bingo is the site you should be visiting to do just that!
As one of the world's biggest online bingo sites Paddy Power certainly do have very deep pockets in regards to them being able to offer bingo game jackpots as well as bingo promotional offers that blow their opposition out of the water, and over the Christmas and New Year period they have set aside a mind boggling £/€1.3 Million to give away on their special Bingo Panto Promotion!
Between now and December the 24th they are offering a range of bingo games on which you could win yourself share of a massive £/€10,000 in bingo prizes, and you are going to be very hard pressed to find another online bingo site offering daily bingo jackpot games as rewarding as those Paddy Power have on offer.
They have also set aside a range of Cinderella Bingo games which is going to give you access to some bingo games on which you are going to hopefully win a share of a truly enormous £/€1 Million in cash prizes, now someone has to win those cash prizes so make sure you pencil in some online bingo play time to see if Lady Luck is going to shine on you!
To give you a way of escaping the madness that often surrounds Xmas Eve, Xmas Day, Boxing Day and New Years Even they have put together a range of Widow Twanky Bingo games on which another set of large winning cash prizes are on offer!
As the Paddy Power online bingo site has their own chat room then do not think you are going to be playing bingo all on your own over the Christmas and New year period, as you will find plenty of fellow players to chat to and a community type of online bingo playing experience is guaranteed, and plenty bingo chat games will be on offer with even more little extras being given away to winners of these bingo chat games at the Paddy Power online bingo site, we will see you there!
Categories:
Bingo News
Posted on: 23rd December 2013 by: Lynda Robshaw