Big £10k Guaranteed Bingo Jackpot Game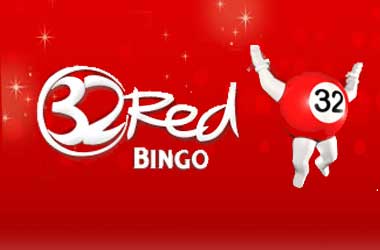 If you can spare a few minutes once a month then you need to get yourself over to 32Red Bingo for once a month on a Saturday you will find they are offering in their Friendship and Harmony Bingo Rooms a whopping £10k guaranteed bingo jackpot game which is played at 10pm.
Now as the prize pool is so large the bingo cards do cost a little more than most other cards offered on many of the other 32Red Bingo games however to enable you to get the maximum playing value you are going to get 6 cards free each time you purchase 6 cards of this bingo game, and as such you will therefore get twice the chances of winning a share of that massive guaranteed prize pool!
The game being used is the 90 Bingo Ball game and in addition to the single line, two line and full house cash prizes there is also a consolation prize. The one line prize so worth £2000, the two line prize is worth £2500 and the full house prize is a whopping £4500 and there is a £1000 consolation prize up for grabs.
If more than one player claims any of the winning patterns then the prize is shared equally between them. You need to purchase at least two tickets to take part in the jackpot bingo game, but with those prizes being so large and with those free tickets being offered to everyone who buys at least 6 tickets then make sure you get as many tickets as you can!
If you are not already a player at 32Red Bingo then make sure you sign up as soon as you can for not only does this leading fully licensed bingo site offer free bingo games but as a new player you are also going to be able to claim, for a limited time only, a no deposit bonus and also a generous deposit match bonus.
Plus if you enjoy playing bingo slot games they have just released their I'm a Celebrity…Get Me Out of Here slot game which is of course based on the television reality show of the very same name, and in addition to that high paying bingo slot game they have a huge selection of progressives slots and plenty of bonus game awarding bingo slots for you to get stuck into playing!
Categories:
Bingo News
Posted on: 15th October 2014 by: Lynda Robshaw