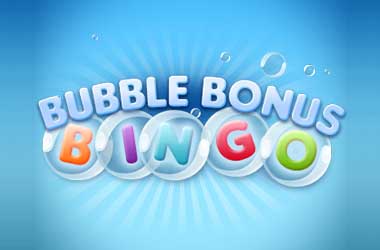 We are never running out of new online bingo sites to present to you, as there is always a steady stream of brand new sites being launched online! One of the biggest operators of online bingo sites is Cassava, they are based in Gibraltar and offer players some of the busiest and most played at bingo sites.
One of the newest sites to have gone live from Cassava is the Bubble Bonus Bingo site, and much like when they launch any new bingo site if you are on the hunt for a generous sign up bonus to help you get the maximum winning opportunities then that is what you will find offered here!
If you choose to sign up today they will let you deposit as little as £5 into your newly opened bingo account and by doing so that will mean you instantly qualify for their sign up promotional offer that will see you then having a starting bankroll of a much larger £25! Make sure that you visit their website for that is where the bonus play terms and conditions can be found.
If you have a little spare time on a Thursday night then make sure you visit their site and log in for between the hours of 8pm and 9pm they have their special No Lose Bingo room open and available to all players, and being a No Lose Bingo room you are not going to lose playing their range of games offered in that room!
You will also find they are offering Penny Bingo games each day between the hours of 4pm and 7pm, so if you only have a tiny bingo playing budget available then those games could just see you winning big when playing their penny bingo games!
If you also in addition to playing nonstop bingo games are a lover of high paying bingo slot machines then do have a look over their website for when there you are going to find out just which new and established slot games they have available you will find many of their bingo slots are the exact same ones you find on land based venues, and as such will always be able to play game you know and enjoy playing.
There really is a lot to like about the Bubble Bonus Bingo site and they have also just launched their own exclusive bingo game which is the Bubble Pop game, make sure that game is added to your list of games which should include 80 Ball Bingo to play one day soon as there are some mega winning payouts available on it!
Categories:
Bingo News
Posted on: 1st October 2014 by: Lynda Robshaw