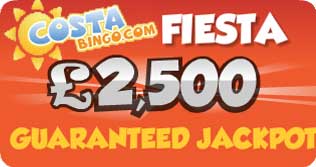 The excitement is mounting today over at Costa Bingo as today is the day when their huge paying Costa Fiesta bingo game is live, and should you be looking for one of the largest paying bingo games played anywhere online today, then Costa Bingo is the site where you will need to visit!
This massive paying 75 ball bingo game is the main event at Costa Bingo this Monday night and they have set aside a massive £2500 in prizes to distribute to the winners of the game, this prize pool is guaranteed no matter how many players take part, so if you fancy bagging for yourself a huge jackpot win then make sure you have nothing else planned tonight at 9pm GMT!
Whilst this Costa Bingo game begins at 9pm you can log in to the chat room from 8.54pm GMT onwards, and thanks to Costa Bingo's state of the art bingo software you will be able to pre buy tickets for this main bingo event in advance, so if you cannot be online at 9pm then simply pre buy your tickets and the software will track all of your purchased tickets for you, and as such you could still win a share of that massive prize pool even if you are not even logged in!
The prize pool of £2500 is divided up as follows: The game is a 75 ball bingo game and it is the first person who calls house by covering all number on any ticket purchased who will win the jackpot of £1000, however when this player calls bingo then everyone who needed at the point in the game when the winner called house, either one number or two numbers to complete a full house on their tickets, gets to win a share of the near miss prize pool.
If you needed just one number when the jackpot winner called house then you get to share in a £1000 prize pool, and every player who needed two numbers when the winner called house gets to share a prize pool of £500 and as such you can win a sizable amount of money even if you do not win the game!
You can play from just one ticket or up to a maximum of 96 tickets on this Costa Fiesta bingo game and with the ticket prices costing just 10p each you will not be breaking your bank by giving this game a try, so why not do just that and join in the fun and games over at Costa Bingo this Monday night.
Categories:
Bingo News
Posted on: 11th February 2013 by: Lynda Robshaw