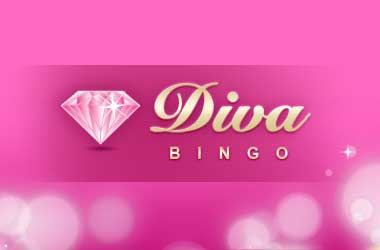 As you know we love nothing better than showcasing to you all of the world's leading bingo sites, and we have a new bingo site to tell you about that goes by the name of Diva Bingo, but there is nothing "Diva-ish" about this great looking bingo site, in fact there is quite a lot to like about it!
Let us start by giving you a rundown of just what bingo game variants you are going to find at Diva Bingo, well they certainly have plenty of low cost bingo games on offer and have both the popular 90 ball bingo games available that offer three cash prizes per game played along with plenty of 75 bingo games for you to get stuck into.
With ticket prices starting at just one penny per ticket then you really will be making your bingo playing budget stretch much further if you choose to sign up and play. If you do like the sound of this bingo site then you will of course be able to bag a generous sign up bonus when you make your first deposit, so let us now take a look at just how big this bonus is!
You can claim a 200% bingo deposit bonus when you make your first deposit of just ten pounds into the Diva Bingo site, and what is more this will then qualify you to spin the Diva Bonus wheel where you will win one of many prizes on offer including one that could award you a whopping £2,500, when you spin that bonus wheel you are guaranteed to win at least £10 but the chance is always there for you to bag a much bigger bonus!
As we are heading quite quickly now towards Halloween they have just launched their excellent Halloween based bingo game and if all goes to plan when you play this game, and you bingo balls all get drawn out of the Diva Bingo machine then you could win a share of a mind boggling £5000!
There are plenty of other promotions on offer including an Ikea makeover, so what are you waiting for get over to the Diva Bingo site now and take part in the fun and games, and make sure you enter their hourly big jackpot bingo games for those jackpots are therefore the taking and the next winning could be you!
Categories:
Bingo News
Posted on: 25th October 2013 by: Lynda Robshaw