Free Bingo Game on Facebook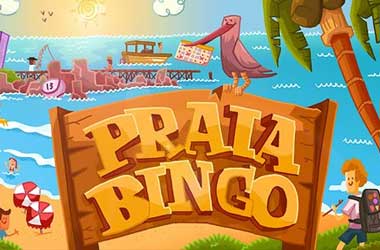 If you fancy playing a few games of bingo then one of the established bingo companies who have for quite a while now been offering bingo players living in Latin American a range of bingo games to play has just updated their Platform which is available on Facebook to accommodate English speaking bingo players!
The bingo company behind the Facebook bingo product is a company called Praia Bingo, and whilst not a site at which you are going to win vast sums of money when compared to standard online bingo sites if you are looking for fun to play bingo games just to pass a bit of time then this may be another option available to you when you are logged into Facebook and updating your status or chatting to friends or family.
However it must be pointed out that like most free to play games that are available to play on Facebook you will be given the option of making in game purchases and as such the game is not completely free of charge!
The games you will be able to play at the Facebook Praia Bingo site are the standard 90 ball bingo games which are played in three rounds, starting with a one line game then moving onto a two line game and finally the game ends with the full house bingo game where you need to be the first playing online and playing in that game to mark of all 15 numbers on any one bingo ticket to win.
They also have a fairly unique video poker game which you may enjoy playing along with a selection of somewhat basic yet unique and exclusive bingo slot machines.
Playing any type of game when logged into Facebook is easy for there are many companies now offering you the ability to play all manner of games, however it is worth pointing out that it can annoy your Facebook friends if you keep on sending them game requests when playing, so if you do decide to play this Bingo game make sure you do not send out such game requests for you may see the number of Facebook friends you have dwindle away.
It may be preferable for you to play at a standard online bingo site for by doing so you will win real money prizes and also be offered lots of bonuses to give you even more chances of winning cash prizes!
Categories:
Bingo News
Posted on: 29th October 2013 by: Lynda Robshaw