Gala Bingo Launches New Coronation Street Themed Games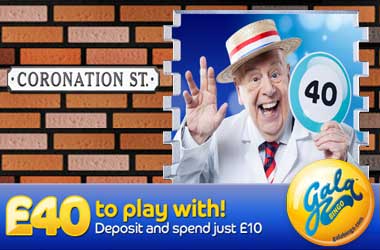 In what promises to become a series of exciting bingo games and bingo promotions the team over at the long established Gala Bingo site have announced a new range of Coronation Street themed bingo games and the launch of their own unique and exclusive Coronation Street slot machine!
So if you are a fan of the very long running television soap opera Coronation Street and wish to play a range of games that have been themed perfectly around some of the past stars of the show then make your way over to the Gala Bingo site for there are a lot of surprises in store for you if you do!
To kick off the launch of these new bingo games and bingo slot machines Gala Bingo have boosted the value of their new player sign up offer, and as such if you are not already a member then you will be able to take full advantage of this offer, which currently lets you claim a large 40.00 bonus simply for depositing and playing 10.00!
This Friday the 10th of January 2104 if you log into the Gala Bingo site you will be able to take part in their huge paying 10k bingo game which is going to be a fun packed evening of nonstop bingo games!
Should you find yourself at a loose end this coming Sunday the 12th log into the Gala Bingo site for they are giving away a huge 30,000.00 in cash prizes to their players and there are going to be lots of spot prizes on offer and you will not want to miss out on your chance of grabbing a share of that huge cash prize pool!
Should you fancy trying your chances on some of the many different bingo slot games that are on offer over at the Gala Bingo site then make sure you give their brand new Coronations Street slot machine a little play time!
This is one of the best slot machines we have come across in a long time and thanks to its very high payout percentage coupled with the high hit frequency of the bonus games attached to the slot and the massive jackpot on offer you could find yourself rolling in cash after just one spin of this slot games reels! Look out for this slot when you next log into the Gala Bingo site for it is a must play game!
Categories:
Bingo News
Posted on: 8th January 2014 by: Lynda Robshaw