Mecca Bingo and X Factor Themed Games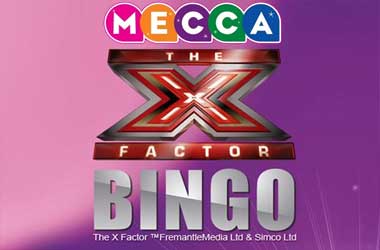 Good news if you are both a player at the Mecca Online Bingo site and also a fan of the very popular UK version of X Factor, as the company behind the X Factor show that being both Fremantle Media and Syco Entertainment has agreed to extend their partnerships with Mecca Bingo one of the UK's largest land based and online bingo operators for the following two years.
Mecca Bingo jumped at the idea several years ago of having an exclusive Bingo game themed around X Factor and it has proven to be one of their most played Bingo games and one on which tens of thousands of regular players take their chances on the game each and every week of the year.
Mecca Bingo have been busy expanding their range of X Factor themed games and have recently been working very busily behind the scenes in the hope of shortly being able to release these brand new additional X Factor themed games onto their mobile gaming network in addition to their standard online bingo game offerings.
It also goes without saying that Mecca Bingo will be using this extended licensing agreement to utilize even more advertising opportunities and as such they should obtain an even bigger market share of the UK online Bingo market place once their new games are launched in conjunction with some large advertising campaigns that they have planned.
Not only can players log on and play the X Factor themed bingo games to win instant cash prizes, but thanks to the Mecca Magazine which is given out at all of their land based Bingo sites their army of customers will also be able to win tickets to the X Factor live finals which is one of the events people are often scrambling for tickets to see!
So should you quite enjoy watching X Factor on the television and fancy giving a Bingo game themed completely around the show along with some unique additional X Factor themed games plus you fancy your chances in regards to winning free tickets to the grand finals which are soon to be held then make sure you join up to the Mecca Bingo site as quickly as you can.
In addition to the special X Factor themed games and ongoing X Factor related promotions you will also be able to take advantage of their new player sign up bonus the details of which can be found on the Mecca Bingo website!
Categories:
Bingo News
Posted on: 12th November 2013 by: Lynda Robshaw