Mega Moolah Bingo Slot Jackpot Finally Won!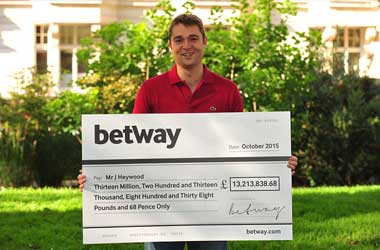 We have been advising each of our bingo slots playing website visitors for weeks that they should allocate a little bit of their slot playing at any Microgaming powered bingo site on the Mega Moolah slot game, for its jackpot had reached a very dizzy height!
However, we are very pleased to announce that the Mega Moolah slot game has finally awarded its jackpot and that lucky player is a UK based serviceman. Quite unbelievably he was only playing that slot game for stakes of 25p per spin however that didn't stop him from winning the largest ever valued progressive slot jackpot.
That lucky player is a chap called Jon Heywood who lives in Cheshire in the UK, and asked how he intends to spend his enormous and certainly life changing jackpot win he has stated that he intends to use the money to help his ailing father pay for the very best treatment possible as his father is awaiting a lung and heart transplant.
If there was ever a very deserving winner of any slot games progressive jackpot is has to be Jon, and we wish him all the very best of luck and we are more than convinced he will spend his winnings very wisely indeed.
One aspect to playing Microgaming's progressive slot games at any online UK bingo site or any online casino that has them available is that they are multi currency slot games. So when playing them in any currency the jackpot displayed on the jackpot meter will be the one you will win in your chosen account currency if you are lucky enough to win the jackpot.
That does of course mean that if another player had won that jackpot playing in any other currency the actual value of that jackpot would have been nowhere near as high as the one Jon won, due to the Pound being so strong against all other currencies!
The main attraction of the Mega Moolah slot game is that no matter at what stakes you are playing it for you can randomly be awarded with the bonus wheel spinning round. Whenever that bonus game gets awarded to you then you are going to be guaranteed of winning one of four different sized progressive jackpot displayed at the top of the screen.
So if you are an avid bingo slot player then look out for the many different slot games that make up the Mega Moolah series of slots as they all share the same jackpot pools!
Categories:
Bingo News
Posted on: 12th October 2015 by: Lynda Robshaw