Posh Bingo's Clash of the Slots Promotions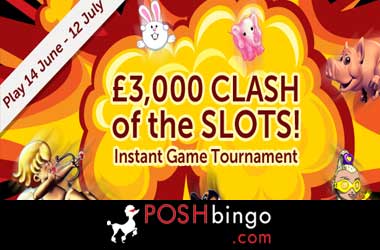 News just in from one of the web's leading online Bingo sites, that being the extremely stylish Posh Bingo site, they have just launched a brand new online bingo promotion, however unlike their standard bingo promotions this promotion is aimed at everyone who loves nothing more than getting stuck into playing bingo slot games!
This brand new promotion is running up until the 12th of July and anyone can take part, however you will of course need to register as a new player if you do not already have a bingo account with Posh Bingo.
The Clash of the Slots is the name of this well thought out bingo promotion, and the aim of the promotion is to reward the players who amass as many comp points as they can be playing any of the bingo slots that Posh Bingo have on offer, and boy do they have plenty of them available.
They are giving away £750 each week until July the 12th and to win one of the cash prices which is a share of that prize pool, simply log on and play their slot games and try and collect as many points as you can.
At the end of each week they tally up everyone's points and then divvy up the cash prizes accordingly. The lucky player who manages to earn the most points during each week will collect a cool £150, with the player earning the second highest number of points be awarded £125.
The remaining players up to the 20th player who collect the most points will also pick up a cash prize the value of which is determined by their final score and accumulated points during each promotional period.
So if you are a fan of playing bingo slots then we just know this promotion will appeal to you, and with plenty of different types and kinds of slot games on offer you will have plenty of choice in regards to the ones you can play.
As a new player you will be able to claim a very generous 250% deposit bonus when you have signed up at Posh Bingo and made an initial deposit, the full details of the Clash of the Slots promotion and the new player bonus can of course be found on the Posh Bingo website so do get over there now and take a good look at it!
Categories:
Bingo News
Posted on: 26th June 2013 by: Lynda Robshaw