Win up to £1million at Moon Bingo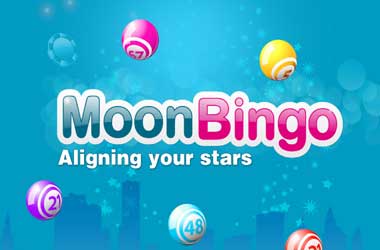 With some mega sized jackpots available at many different bingo sites, you may be putting together your monthly schedule in regards to which bingo sites to play at on different days of the week this month, and if so then you should take a look at the following bingo game!
The Self Made Millionaire bingo game is available over at Moon Bingo and is held every third Saturday of each month of the year, and it is scheduled to go live on that day at 11pm, and as such that is one day and time to pencil into your bingo schedule as this game offers you the chance of bagging a huge £1millionbingo jackpot!
This bingo game is one of the many different Sliding Bingo games which are available at Moon Bingo throughout the month, and when taking part in this bingo game it is the actual number of balls called out at the point in the game that a player calls bingo on that will determine just how much they will win.
The Self Made Millionaire bingo games are modestly priced at £1 per ticket and all signed up and registered players at Moon Bingo are permitted to take part in these high paying bingo games. You can buy from as little as one ticket or up to a maximum of 96 bingo tickets, so it is certainly a game
all players will be able to actively get involved in playing!
In the event of two or more players calling bingo on the same number called out of the bingo machine then the prize will be shared out equally amongst all winning players.
The prize pool as mention above is determined by the number of balls called out when a player or player's call bingo and the prize structure is as follows:
1 to 24 Bingo Balls – £1,000,000
25 to 29 Bingo Balls – £100,000
30 to 33 Bingo Balls – £25,000
34 Bingo Balls – £10,000
35 Bingo Balls and Above – £1,000
If you have not yet already signed up as a player at Moon Bingo then you can do so at any time and it will take you around a minute to register as one of their new players, and by doing so you will also be able to make full use of their new player sign up bingo welcome bonus offer the details of which you will find on their website.
Categories:
Bingo News
Posted on: 30th March 2016 by: Lynda Robshaw