32Red Bingo Monthly Mega Pot Game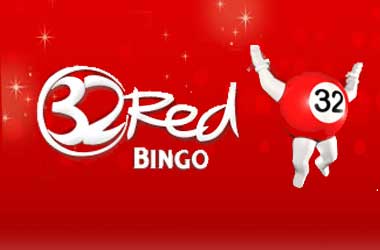 Should you be looking for a completely free to enter Bingo game to take part in, but one that offers not a small nominal cash prize, but a mega sized prize pool, then make sure you head on over to the 32Red Bingo site and take part in their Monthly Mega Pot Bingo game!
If there is one online Bingo site that can be relied on to always shower their customers with lots of little and not so little extras it is 32Red Bingo, and their Monthly Mega Pot Bingo game is your chance to play completely risk free and pick up a share of their massive prize pool.
If you are a regular player of the 32Red Bingo site then you are also going to be able to pick up lots of additional free tickets for this huge paying Bingo event, simply look out for their special Golden Ticket Weekend games which shower free tickets into the Mega Pot Bingo games in addition to the standard cash prizes those Bingo game have on offer!
If you wish to give this Jackpot Bingo game a try then you need to log into the 32Red Bingo site at 10pm on the last day of each month, and simply log into their Friendship, Harmony or Speed Bingo rooms as that is where this Mega Pot Bingo games are taking place.
The Bingo game used for this game is the 90 Bingo Ball game, and that does of course mean that there are three cash prizes up for grabs. If you are the very first person to win the one line prize then you will win £300, the first person to call Bingo with a two line pattern will win £375, and that lucky player who gets a full house is going to pick up a very large £675 cash prize. There is also a consolation bonus payout worth £150.
In the event of more than one player forming the winning Bingo pattern at the same time then the prize is equally shared between all winning players. You can win additional cards into this Mega Pot Bingo game each time you make a £20 you deposit into the 32Red Bingo site you are awarded an additional ticket for this Bingo game and additionally another one free Bingo card is awarded each time you buy and play £20 worth of Bingo cards.
Categories:
Bingo News
Posted on: 29th May 2014 by: Lynda Robshaw