Bingo Operator now offering Live Mobile Casino Games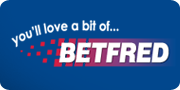 One of the UK's biggest betting companies, probably best known for their online bingo sites along with their online casino and betting site, Bet Fred, have just announced that in addition to their brilliant mobile bingo site App they have now made available to their army of players a Live Casino site to anyone with a mobile phone or mobile device.
Unlike the conventional software driven casino games which are controlled by a random number generator when you opt to play at a live casino site you are able to play real life casino games which are beamed in real time via a video stream from a physical land based gaming venue.
You are then able to place a range of bets on to the particular game via a very ingenious mix of software the betting layout is displayed via video software however at all times you can watch the actual gaming action unfold via the video stream.
This major advancement in the way players can now access these live casino games has been made possible thanks to both 3G and the brand new 4G mobile networks that offer unsurpassed connection speeds.
BetFred Bingo has long be a favourite with players many of which know and love this gambling company having visited one or more of their land based betting offices. Bet Fred as a whole is known for their huge bonuses given away on any of their gambling sites, and the man in charge a Mr Fred Done runs his entire operation on the basis that by giving maximum value to his customers he builds up a very loyal following.
This policy has earned him the nick name the Bonus King, and with austerity measure taking effect all over the world his view on giving players more is allowing him to mop up customers from all of his competitors sites and his player base continues to grow year on year.
So should you be looking for a mobile bingo site or now a brand new live casino site which is accessible on either a computer or any mobile device then you really should take a look at what Bet Fred has to offer, as when it comes to getting the ultimate value from your gaming budget, no matter how large or small then Bet Fred is the place to visit.
Categories:
Bingo News
Posted on: 28th February 2013 by: Lynda Robshaw