Costa Bingo's X Factor Promotions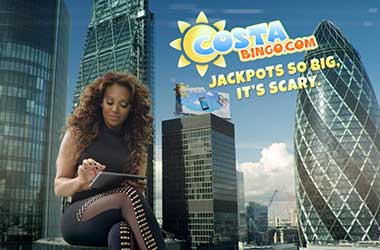 As the brand new face of Costa Bingo is Mel B or as she is also known, Scary Spice, it was to be expected that as she is also one of the star judges on the UK version of X Factor that this leading bingo site was going to put together a range of special promotional offers based around this hugely popular television talent show.
True to form this is just what Costa Bingo have done and a such you are going to be able to take part in a huge range of promotional offers whilst the X Factor is still on television, and to give you an idea of some of these promotions we have highlighted the best ones below for you.
Be aware that as these offers are available to existing players, if you are not already a player at Costa Bingo make sure you sign up as soon as you can for in addition to these promotional offers you will also be able to claim their current new player sing up offer the details of which can of course be found splattered all over the Costa Bingo sites great looking website!
Time To Judge – As you know as part of the elimination process the judges and the watching public get to vote who is going to be knocked out of the X Factor at the end of each show, and to give you a chance of winning an a very special prize Costa Bingo are offering their own vote. Place your vote and if the contestant you voted for is ejected from the competition then you go into the draw to win one of thousands of diamonds that Mel B will be giving away!
Mel's Monday Bonus – Mel B is in charge of the Boys category this year and as such the team over at the Costa Bingo site have put together a very special promotional offer that is going to see you being able to claim a potentially very large bonus each Monday.
Depending on just how many boys she has left in her category after the vote to eject one of the contestants has taken place Costa Bingo will offer their players a Monday bonus offer. The more boys that remain in the category then the bigger that bonus will be! So here's hoping the lads keep on getting the votes and stay in as long as is possible!
Categories:
Bingo News
Posted on: 6th November 2014 by: Lynda Robshaw