Costa Cabana Tuesday Bingo Jackpot Game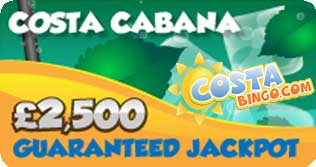 Today is the day when the Costa Bingo site rolls out one of their biggest paying Bingo games of the week, and this is taking place later on tonight in the Costa Cabana Room at this no download required flash powered Bingo site that is the number one site for tens of thousands of daily online Bingo players.
Be online and ready to play by logging into the Costa Bingo site at 8.45PM and you can fully interact with all of the other players looking to bag the huge 2500.00 cash jackpot on this most popular Bingo game.
The game will start at 9.00PM sharp so the earlier you are online the better!
The Costa Cabana Bingo game is a low cost game, and each ticket will just cost you 0.10 and you can buy as little as just one single card or if you fancy increasing your chances of winning that huge 2.5k jackpot price then you can buy as many as 96 tickets for the game.
The base game used on this Costa Bingo game is the very popular 90 ball Bingo game and as such you will get 15 numbers printed on each ticket and the game is in fact made up of three prize paying rounds.
The game will get underway at 9.00PM and you will first be playing for a one line price, if you are the first player to mark off just one line across on any of your purchased tickets then you will win the one line prize.
After this prize has been allocated to one lucky player, or should more than one player wins then the single line prize is shared equally, the game moves onto the two line prize. Finally you will be playing for that huge cash jackpot prize and this will be awarded to the first player or players who manage to cross off all 15 numbers on any one of the tickets they have purchased for the Costa Cabana Bingo game.
If you a not already a member of Coast Bingo then get in quick and register as a new player as not only will you then be able to take part in this huge jackpot paying Bingo game but you will also be able to take Costa Bingo up on their new player bonus offer, the full details of which can be found on their state of the art and very informative Bingo website, so make sure you take a look and check it out.
Categories:
Bingo News
Posted on: 30th April 2013 by: Lynda Robshaw