Is the Mega Moolah Bingo Slot Jackpot Due?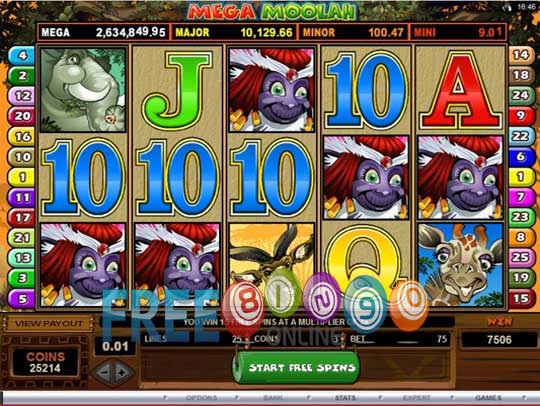 By signing up to an online bingo site you will always find a large and very varied selection of side games to play.
However, if you make the very wise decision of signing up to an online or one of the newer mobile bingo sites that use the Microgaming software platforms then you are going to find a huge selection of very high paying bingo slots.
We always like to keep track of the progressive jackpots that are available to players at all of our featured and top rated bingo sites, and we will always alert you when the jackpots have reached a level that makes those slots highly playable.
The Mega Moolah series of slots from Microgaming all share the same progressive jackpot pools, so one thing you will notice when playing them is that the jackpots are all the same value and keep on rising very rapidly due to the number of other bingo slot players playing them.
Currently the top valued jackpot on offer on each of those slots, of which there are four different sized jackpots, has grown to almost £10million, and are such that jackpot is now as good as ready to burst, and we are convinced that sooner rather than later one player is going to walk off with that jackpot!
The best aspect of playing any of the different Mega Moolah series of slots is that the jackpots are all awarded at random by a randomly triggered wheel spinning based bonus game, and unlike many other progressive slots offering a jackpot there is no requirements for you to have to play for a certain stake level to have a chance of winning any of the four jackpots attached to those bingo slots.
So even if you enjoy playing slots at bingo sites for some very low stake amounts then the Mega Moolah series of slots should currently be at the top of your list of slot games to play, for that top valued jackpot is well worth winning, and you can win it in an instant!
One final thing that we should point out that if you do win a progressive bingo slot jackpot when playing Microgaming designed and supplied slot games then they will ensure you get all of the winnings paid out to you in one single lump sum payment, so that is well worth knowing!
Categories:
Bingo News
Posted on: 13th June 2016 by: Lynda Robshaw