Ladbrokes Bingo Grand National Party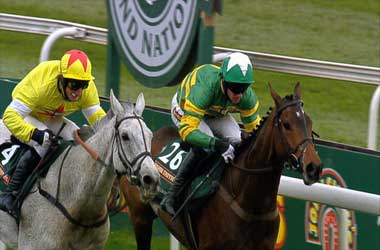 This weekend sees the running of the annual Grand National race at Aintree and whilst most people will be having a small bet on race the team over at Ladbrokes Bingo have decided to through a huge after race party, and there are plenty of free Bingo prizes up for grabs.
The place to be on Saturday the 5th of April at 5pm is the Ladbrokes Bingo site and when you get there make you way to the Attic Bingo Room as that is where the fun and games will be happening.
These special party games will be running from 5pm until 10pm on Saturday and each hour they are played will see 10 Roll on Bingo games being played with 100.00 in the prize pools of these games.
The Grand National Party Bingo Event will be played on the 90 Ball Bingo games and the single line, Double line and Full House games all have a 10.00 cash prize with 7 additional Roll On winners each bagging themselves 10.00.
However you will need to get over to the Ladbrokes Bingo site today to qualify for free Bingo tickets to take part in the free games. They have 500 games on offer and each of them have a 10.00 cash prize.
So if you have some spare time today, Friday then you could qualify for plenty of free Bingo tickets for this huge cash giveaway. Today's qualifying time period is between 9pm and 10pm so you have plenty of time to do what you need to do today then get over to Ladbrokes Bingo tonight to try and earn your free Bingo tickets.
If you have never played at Ladbrokes Bingo before then you will also benefit from a large new player sign up bonus and will be able to play a plethora of different Bingo games and Bingo side games such as slot machines and roulette.
The Ladbrokes Bingo site is well known for giving away some of the largest Bingo cash prizes on their nonstop Bingo games which are running 24 hours a day, so there is always a chance of you walking away with a considerable amount of cash if of course your Bingo numbers all start to get drawn out of the Bingo machine.
For full details of what else they have to offer you take a few minutes to checkout their Bingo website.
Categories:
Bingo News
Posted on: 5th April 2013 by: Lynda Robshaw