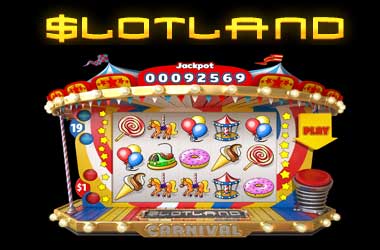 One of the longest established online casinos who offer a wide and diverse range of slot machines is Slotland. They have an unusual collection of slot games and many players look at them as Retro type games due their unique look and feel.
The slot machines that you will find available at the Slotland site require no downloading of software and can be played in a web browser and this somewhat old fashioned way of playing any online casinos set of slot games has remarkably made them fully compatible with mobile phones and mobile devices, so if you have a mobile then you can play a large selection of their slots instantly.
In recent days a UK based slot player was sat there quite happily spinning the reels of the Carnival slot at Slotland Casino managed to spin in the jackpot paying combination which saw him being awarded the mind numbing and certainly life changing jackpot of $266,800.
The slot games at Slotland all share the same jackpot pool and this makes then very unique in as much as you can play any of their slots and still have a chance of winning the current jackpot displayed on the jackpot ticker without having to stick to playing the same slot machines.
It has been quite a while since the jackpot was won at Slotland and some previous big winners was another UK based player who bagged a $200k jackpot back in 2009 and more recently a US based player hit a massive $207k jackpot when playing at Slotland.
Slotland accept and allow slot players from all four corners of the globe so if you have been having problems playing slots online then give them a try as they will welcome you onboard.
The thing to keep in mind when playing at Slotland is that all of their games are slot machines and as such you may find a video poker game however the way it works and operates is just like a slot machine.
This means that you are going to be playing a wide range of high paying slot games which boasts some of the highest payout percentages if you opt to play at this site and if you do decide to play either on your computer or your mobile phone then you will be able to claim a welcome bonus sign up offer, the full details of which can be found on their website.
Categories:
Bingo News
Posted on: 12th April 2013 by: Lynda Robshaw